Tim
Game
Wild Arms 2
Area
Baskar
Weapon
Staff
Class: Zoa Priest
Gender: Male
Age: 12
Height: 5'
Tools: Pooka, Air Ballet, Mist Cloak
Wild Arms 2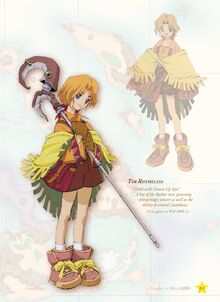 Tim Rhymeless was spirited away from his hometown of Baskar as a child in order to escape his fate. His mother resettled in the town of Meria, but unfortunately died while Tim was a young boy, making him an orphan. Fortunately, he was befriended by Tony Stark, Scott Summers and Ashley Winchester, and was able to live a relatively quiet life in obscurity for several years.
This changed when a group of thieves, led by Gangal (along with Gerg and Zook), kidnapped Tony and hoped to take him hostage. They hid out in the Withered Ruins where Ashley was under orders to free him and capture the thieves. Ashley did succeed in freeing Tony, and was rewarded with Tim's Spirit Medium, revealing that Tim had a background as a Summoner, though he didn't understand it.
Eventually, Tim finds himself the center of unwanted attention from Odessa, who wish to capture him and use his power, and the elders of Baskar, who want to sacrifice him to 'save the world'. Tim, along with guidance from Pooka, is able to resist both forces and vows to save the world by fighting alongside his new friends in ARMs.
Tim's personal story is fairly short, and is largely a statement about the foolishness of meaningless sacrifice. The relevance of the guardians to the overall plot, and even Tim's continued presence, is someone rendered moot when the main story of the game resumes. Even Tim's puppy-love romance with the other would-be sacrifice, Colette Mapleleaf, is given no more consideration.
Wild Arms 2 Biography
Tim is a boy with gentle features. He has the amazing power of being able to communicate with the Guardians.
Art of Wild Arms Bio
"Child with Grown-Up Eyes"
A boy of the Baskar race, possessing strong magic powers as well as the ability to control Guardians.
Wild Arms 5
Tim appears in the town of Mithysmere, and provides the service of combining the party's low-ranking badges into more powerful ones.