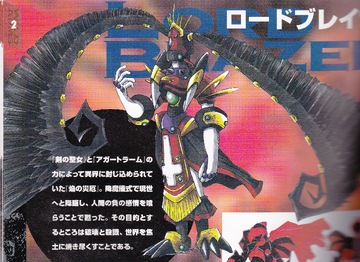 Lord Blazer is the final boss of Wild Arms 2.
History
Lord Blazer was a commanding officer from the time of the Great Blaze, and was actually the person who caused the great disaster. The world was saved from complete ruin with his defeat at the hands of the Sword Magess, who was able to seal him, his soldiers, as well as herself, Marivel Armitage, and Luceid into a pocket dimension.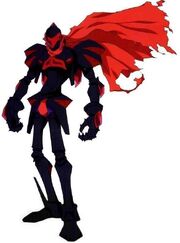 There Lord Blazer would have remained for all time if Caina hadn't been tasked by Odessa into using a "demon summoning spell" as part of a terrorist act at the Sword Cathedral. While most of the victims of the act were inhabited by lowly soldiers, converting them into minor demons, Ashley Winchester became possessed by Lord Blazer himself.
Throughout the course of the Wild Arms 2 game, Ashley must confront and subdue the growing power of Lord Blazer within him, which can manifest in the form of the Knight Blazer. During the final battle, Ashley will pull out the Argetlahm, the only weapon that can defeat Lord Blazer, and use the Impulse attack repeatedly to defeat him. At a few points, it seems as if that Lord Blazer will finally get the upper hand, though Ashley inevitably wins out at the end, destroying the ancient "demon" once and for all in a rare bit of "butt-kicking" for a final boss battle. Also note the theme played during your battle with him.
Skills and Attacks
Negative Flare
Vermillion Disaster