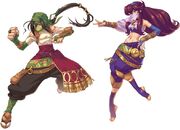 Class Description
The Geomancer is one of general classes available to the player after completing Act 1-8. The Geomancer is one of the most unusual in the game in that the Geomancer manipulates the Ley Points of a battlefield for their own benefit. They can use "Translate" to teleport from one ley point to a ley point of a matching element and they can simply use "Replace" to swap places with units, ally or enemy, that are in range. They can also lock HEXes with "Shut Out" which can lock an enemy or ally within that panel, or make it inaccessible to any unit on the battlefield. The Ley Points of a battlefield are invisible to all ally units except for Geomancers and units who have the Geomancer OC skill equipped.
The Geomancer class equips Throwing Stars as weapons and Jewels for armor. Throwing Stars cannot attack nearby HEXes. Jewels have an additional attribute of reducing elemental damage on the equipped unit.
Original Commands
Original Commands are techniques that can be used in battle provided the needed requirements are met.
| Command | Description | MP Cost |
| --- | --- | --- |
| Translate | Wraps the user between ley points of the same element. | 8 |
| Replace | Exchanges the positions of the user and the target. | 12 |
| Shut Out | Locks the target's HEX, preventing movement in or out. Cannot be used after moving. | 16 |
| Ley Spread | Extend the element of the ley point on which the user is standing to the entire battlefield. Attacks of the same element will be strengthened, while those of the opposite element will be weakened. | |
Personal Skills
These skills activate automatically for units in the Geomancer class. When enough CSP is gained these skills can also be equipped by the unit even when it switches to a different class. The special skill is a special skill learned when the class is mastered.
| Skill | Description |
| --- | --- |
| Geomancer OC | Allows the unit to use Geomancer Original Commands |
| Ley Attack | Imbues regular attacks with the ley point's element when the unit is standing on a ley point. |
| Move and Heal HP | Recovers HP after moving. |
| Geomancer EQ | Allows the unit to equip Geomancer equipment. |
| Ignore Move Cost | Allows the unit to move without regard to movement costs. |
| Crisis MOV up | Increases parameters based on the ley point's element when the unit is standing in a ley point. |
| Special Skill | Description |
| Ley Boost | Extend the element of the ley point on which the user is standing to the entire battle field. Attacks of the same element will be strengthened, while those of the opposite element will be weakened. |