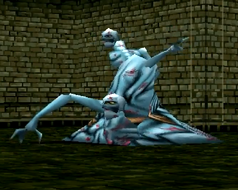 Faller are enemies encountered in Giant's Cradle dungeon.
They are a scary figure looks like the junction of two twisted humanoid bodies amidst a large mass with arms.
They usually attack in pairs, and are considered a threat. These creatures resemble the Hektonkail found earlier around the map near Heaven Corridor.
Skills
HP: 1200
MP:00
EXP: 1800
GELLA: 130
WEAK: Fire
SPELLS: Nothing
DROP: Medicine
Trickster: Medicine