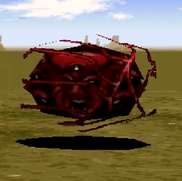 Balloons are a recurring enemy monster that has appeared in all games since the first Wild Arms. In all cases, they are an early-game monster and are not a threat. They more often than not are floating red or orange spheres with a face or several on them.
Wild Arms
Wild Arms 2

They are located mainly in Meria Region, but can be found in various other areas
Skills
LEVEL: 01
HP: 60
XP: 06
GELLA: 12
Drop: Stone
Pickpocket: Heal Berry
Red Skill: Wildcard
Divides Into: Shanzen
Elemental Stats: Dark (Weak)
Wild Arms 3
They appear on the map of Filgaia early in the prologue of Gallows Carradine near Baskar Village.
Weakest enemy in the game.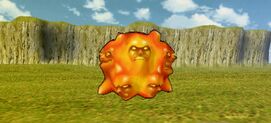 Skills
LEVEL: 01
HP: 32
XP: 01
GELLA: 02
Drop: Heal Berry
Pickpocket: Potion Berry
Red Skill: Wildcard
Divides Into: Shanzen
Elemental Stats: Earth, Water, Thunder, Wind, Ice (Halved), Dark (Resist), Light (Weak)
Gallery